Our People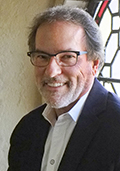 Founding Director Randall B. Robertson shapes the trajectory of GladdeningLight assisted by a Board of Trustees and a National Council. A multimediaist, Mr. Robertson was first drawn to the marriage of art and spirit while studying the Italian Renaissance in college abroad in the 1970s. He applied that passion towards his first performance art piece produced with Newbery award-winning author Madeleine L'Engle, entitled The Glorious Impossible, combining the art of Giotto's famed Scrovegni Chapel frescoes in Padua with musical passages of ancient sacred polyphony, classical, contemporary and secular works alongside Ms. L'Engle's narrative on the life of Christ.
Presentation of The Glorious Impossible with Ms. L'Engle throughout North America led to encouragement from theologians John Dominic Crossan and Marcus Borg to create Phos Hilaron, a performance art "Christmas pageant for thinking adults" that toured the southeast with Drs. Crossan and Borg in 2008 and 2009. Led by a 32-voice chamber choir from Georgia Tech, complemented by CGI composite video and accompanied live by the world music of Free Planet Radio, Phos Hilaron played to audiences in Atlanta, North Carolina and coastal Georgia. Prior to the founding of GladdeningLight, Mr. Robertson spent the previous two years in graduate study of the spiritual arts in New York City.
"GladdeningLight is as much about art and love as it is about light. There are many paths to the godhead, and the power of infinite love leads affirming pilgrims on its way. The human condition beckons ancient rhythms to reawaken one's appreciation for the dance of light and life. GladdeningLight aspires to be an artful beacon exalting the Holy Spirit's expression within the creative call." Randy Robertson, Founding Director
Trustee Lisa Bruttell Grant is an entrepreneurial wunderkind who began a two-person cooking service that eventually became Orlando's most respected catering organization.  As co-founder of Arthur's Creative Events & Catering, Ms. Grant worked tirelessly over twenty-five years building the company and its reputation before retiring to North Carolina.  She is a graduate of Father Richard Rohr's Living School in New Mexico and is involved in all manner of spiritual endeavors, spearheading local group study and participating nationally in contemplative practices.
Trustee Elaine Woods Johnson is a veteran member of the Alabama State Council on the Arts, currently serving in her fourth term on the Council's Board. She has received numerous awards for arts advocacy and service, including the Alabama Governor's Arts Award. Ms. Johnson received her BS and MA from the University of Alabama and was a professional educator for 25 years. She lives in Dothan, Alabama where she continues her involvement with the arts and serves as a Ruling Elder in the Presbyterian Church U.S.A.
Trustee Perry Nies completed his undergraduate and graduate work at MIT and Harvard, and managed both for-profit and non-profit organizations his entire career. The Honduras ministry of El Hogar, for which he serves as Regional Coordinator for projects in Central Florida, is a particular passion for Mr. Nies. He also continues to work tirelessly with the organization, Horizon Communities in Prison, mentoring inmates at Tomoka Correctional Facility outside Daytona Beach. Now retired, Mr. Nies seasonally divides his time between Winter Park, Florida and Southport, Maine with his wife, Jane.
Trustee Kirk Squires is Director of Staff & Cultural Development at Full Sail University, a higher education institution dedicated to cultivating innovative careers in the arts, entertainment, and media. He currently runs Full Sail Leadership Academy – an internal leadership development program for high performing Full Sail professionals. Kirk previously served on the board of the Northland Foundation for Arts and Education and has also supported the C.S. Lewis Foundation, International Arts Movement, Mastermedia International – among other arts and entertainment initiatives.  Kirk lives in Winter Park with his beautiful bride, Christianne.

Marcus J. Borg was the Hundere Chair of Religion and Culture in the Philosophy Department at Oregon State University until his retirement in 2007. He was the author of 21 books, including Jesus: A New Vision (1987); The God We Never Knew(1997); The Meaning of Jesus: Two Visions (1999);  best-sellers, Meeting Jesus Again for the First Time (1994), Reading the Bible Again for the First Time (2001), and The Heart of Christianity (2003); New York Times Best-Seller, Jesus: Uncovering the Life, Teachings and Relevance of a Religious Revolutionary (2006). Among his most recent books were a first work of fiction, Putting Away Childish Things (2010), Speaking Christian (2011) and Convictions: How I Learned What Matters Most (2014). In addition, Dr. Borg co-authored three books with John Dominic Crossan: The Last Week (2006), The First Christmas (2007), and The First Paul (2009). Marcus J. Borg passed away on January 21, 2015. His spirit, beloved and adored, will continue to serve the GladdeningLight National Council in perpetuity as trusted mentor and friend. (Photo by Cyndy J. Hubbard)
Dr. Borg holds a doctoral degree from Oxford University and has lectured widely overseas (England, Scotland, Austria, Germany, Belgium, Hungary, Israel and South Africa) and in North America, including the Chautauqua and Smithsonian Institutions.
Described by The New York Times as "a leading figure in his generation of Jesus scholars," Dr. Borg has appeared on NBC's Today Show and Dateline, PBS's Newshour, ABC's Evening News and Prime Time with Peter Jennings, NPR's Fresh Air with Terry Gross, and several National Geographic programs.
A Fellow of the Jesus Seminar, he has been national chair of the Historical Jesus Section of the Society of Biblical Literature and co-chair of its International New Testament Program Committee, is past president of the Anglican Association of Biblical Scholars, and is a regular columnist for beliefnet.org. His work has been translated into ten languages: German, Dutch, Korean, Japanese, Chinese, Italian, Spanish, Portuguese, Russian, and French.

National Council member John Dominic Crossan was born in Nenagh, Co. Tipperary, Ireland. He was educated in Ireland and the United States, received a Doctorate of Divinity from Maynooth College, Ireland in 1959, and did post-doctoral research at the Pontifical Biblical Institute in Rome from 1959 to 1961 and at the École Biblique in Jerusalem from 1965 to 1967. Dr. Crossan was a member of a 13th-century Roman Catholic religious order, the Servites (Ordo Servorum Mariae), from 1950 to 1969 and an ordained priest from 1957 to 1969. He joined DePaul University, Chicago in 1969, remained there until 1995, and is now a Professor Emeritus in its Department of Religious Studies. (Photo by Roxy Jacobs)
Dr. Crossan was co-chair of the Jesus Seminar from 1985 to 1996 as it met to debate the historicity of the life of Jesus in the gospels. In the last 40 years, he has written 23 books on the historical Jesus, earliest Christianity, and the historical Paul. Five of them have been national religious bestsellers.
The scholarly core of his work is the trilogy from The Historical Jesus: The Life of a Mediterranean Jewish Peasant (1991) through The Birth of Christianity: Discovering What Happened in the Years Immediately After the Execution of Jesus (1998), to In Search of Paul: How Jesus's Apostle Opposed Rome's Empire with God's Kingdom, co-authored with the archaeologist Jonathan L. Reed (2004). HarperSanFrancisco published Dr. Crossan's God & Empire: Jesus Against Rome Then and Now in 2007. His latest books are The Greatest Prayer: Rediscovering the Revolutionary Message of The Lord's Prayer (2010) and The Power of Parable: How Fiction By Jesus Became Fiction About Jesus (2012). He also has co-authored three books in a series with theologian Marcus Borg: The Last Week, The First Christmas and The First Paul. His work has been translated into 12 foreign languages, including Korean, Chinese, Japanese, and Russian.
Dr. Crossan lectures to lay and scholarly audiences across the world and has appeared on NPR's Fresh Air with Terry Gross, ABC's PrimeTime, Peter Jennings Reporting, and Nightline, CBS's Early Show and 48 Hours, NBC's Dateline, and Fox News' The O'Reilly Factor, as well as cable networks A&E, History, Discovery, and the National Geographic Channels.

National Council member Harry H. Pritchett, Jr. currently serves as Pastoral Associate to the Dean of the Cathedral of St. Philip in Atlanta and was the Eighth Dean of the Cathedral of St. John the Divine, New York City, the largest Gothic cathedral in the world, from which he retired in 2001. For 16 years, he was the Rector of All Saints' Church, Atlanta, where he is Rector Emeritus. The Very Reverend Pritchett has preached and led conferences, retreats, and consultations for clergy and laity throughout this country and in Europe.
He has contributed to many books, primarily in the areas of parish development and theological reflection. Reverend Pritchett is the author of God is a Surprise, a children's songbook, as well as Morning Run, Sabbatical Reflections on the Church and the City. He has written various articles and/or sermons for national journals and periodicals of many denominations, and is the originator of the frequently published "The Story of Phillip." Reverend Pritchett holds Doctor of Divinity degrees from Centre College in Kentucky and the University of the South at Sewanee, and serves on the Board of Trustees at Virginia Theological Seminary.

Barbara Brown Taylor is the Harry R. Butman Professor of Religion and Philosophy at Georgia's Piedmont College. In 1996, a Baylor University panel named her one of the twelve most effective preachers in the English-speaking world, an event that catapulted her into the national consciousness and eclipsed her calling to the priesthood as rector of Grace-Calvary church in Clarkesville, GA. She is a graduate of Emory University and Yale Divinity School, and has received honorary Doctor of Divinity degrees from an array of higher learning institutions throughout the country.
Recently, Time magazine named Dr. Taylor as one of the year's most influential people and made her book Learning to Walk in the Dark the subject of a cover story. All in all, she has written thirteen books notably Leaving Church and An Altar in the World.
When not traveling the earth telling stories, Barbara Brown Taylor lives with her husband Ed on a farm in the foothills of the Appalachians, sharing space with wild turkeys, red foxes, white-tailed deer and far too many chickens.